Eat more before and after exercising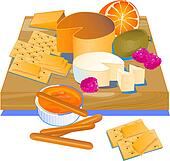 Our third week is about the importance of fuel for your body especially when exercising or exerting yourself beyond normal activity!
Before your workout or any strenuous activity, plan on having a light carb and protein snack about 30 minutes before.

Also t

ry eating a small protein snack after your workout.

You will feel energized and it will speed muscle growth and aide recovery.
Snacks and meals with carbs and protein are especially essential for children when they are actively playing all day.

Their bodies need long lasting fuel to make it through the day.

Remember to p

rovide your children with plenty of water throughout the day as well.
Next week:

Be a salad lover
For more information, click on the following links:
For more detailed information, read the book "The Women's Health Diet" by Stephen Perrine with Leah Flickinger.
Colleen Carman, Finance/HR Director